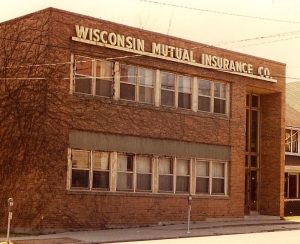 Wisconsin Mutual Insurance Company was organized in 1903 under the name of Wisconsin Tornado Mutual Insurance Company. Initially located in Milton, Wisconsin, the company changed to its current name and moved operations to Madison in 1946. After residing at 1619 Monroe Street across from Camp Randall for 32 years, Wisconsin Mutual constructed and moved to the current location in Old Sauk Trails Park, 8201 Excelsior Drive, in 1990.
Wisconsin Mutual was structured as a mutual company and continues to operate as one, being fully owned by its policyholders. The company has historically written business only in the state of Wisconsin and expanded to Minnesota in the Spring of 2017.
Utilizing over 1,000 agents in 180 agencies, Wisconsin Mutual insures over 50,000 properties and 100,000 automobiles .The company handles the majority of its claims internally at one of 6 adjuster offices or the Madison home office. With more than 200 insurance companies writing private passenger automobile coverage in Wisconsin, Wisconsin Mutual ranks 14th in direct written premiums. Similarly, the company ranks 13th in Homeowner and 7th in Farmowner premiums in Wisconsin.
In addition to Automobile, Homeowner and Farmowner packages, we also write Dwelling, Commercial Packages, Mobile Homeowner, Umbrella and Other Liability coverages, along with Boats, Recreational Vehicles and other Personal Inland Marine items.
Wisconsin Mutual has experienced an extended period of consistent growth recording increased direct premiums in 42 out of the past 45 years. Profitability has also been exceptional as the company has increased surplus in 30 of the last 34 years.
With the steady growth of profitable business, Wisconsin Mutual has one of the best operating expense ratios in the industry, providing consumers more value for their insurance dollar with a secure Midwest based company.